Friends, undoubtedly the best comedy series. It is now available on Netflix for you all to stream in India. I observed how much fashionable they were at that time. No matter what thing it is, they always looked good and comfortable. Bringing out the old beautiful sense of the Tv SHOW, FRIENDS. Here are the top 5 outfits for all the beautiful ladies.
5. The College Campus Look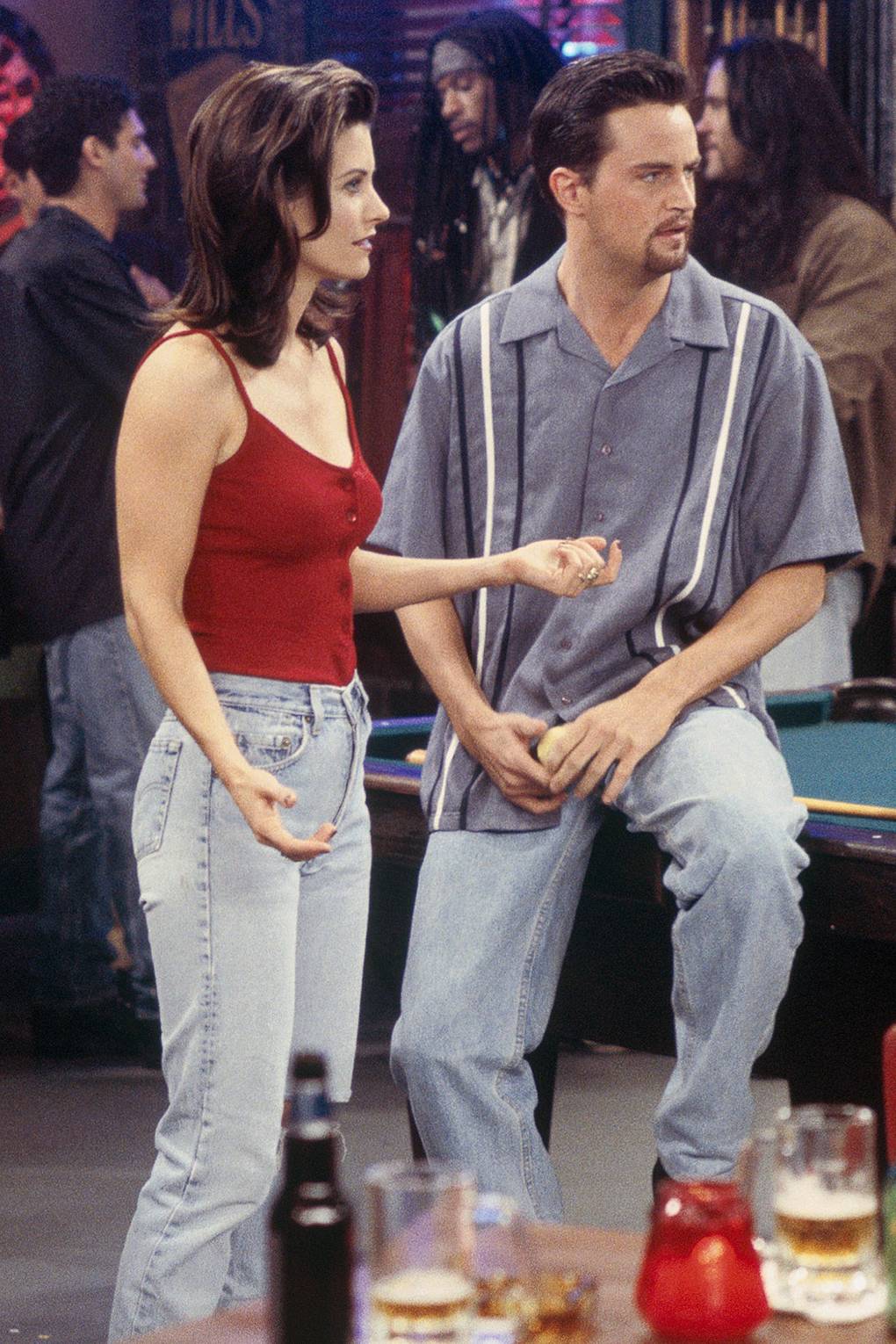 Monica always had the ability to take a casual look and make it look stylish and bang on-trend. The ripped jeans at the knee may be a shock for some as Monika is known for her cleaning obsession and love of all things tidy.
The red cami vest and ripped jeans are a great look to rock around the college campus. A comfortable style that lends itself to all sorts of functions and occasions.
4. The Casual Office Look
Rachel went from serving coffee (badly) at Central Perk to being a successful buyer at Bloomingdales, before moving on to Ralf Lauren and being offered a job in Paris working for Louis Vitton. She is our fashion queen.
This every day, casual office look is smart yet super comfortable, allowing you to go about doing your office duties in style.
3. The Elegant Mint Green Look
Rachel looked stunning in this simple yet elegant mint green dress.
No jewelry is required for this sleek and graceful look. The dress speaks for itself. Heads of both the cast members and the audience were turned as she entered the room wearing this delight. She looked like a beautiful green goddess!
This simple dress is ideal for a more formal party or charity event. Rachel wearing this dress looked beautiful. You can try these out.
2. The Boho Floral Skirt Look
Pheobe, a free spirit and masseuse, is one of the most beloved characters in Friends. Her quirky personality and happy presence shine brightly and so does her wardrobe.
This boho look of a simple plum colored top and full length pleated floral maxi skirt just screams summertime vibes. Wear this classic Pheobe style for an evening in the garden where you can just go on a walk with your friends.
1. The Tartan Skirt Look
This perfect Rachel outfit choice is just too adorable. The classic roll neck sweater and plaid skirt worn by Rachel looks like to has been taken straight from the set of Clueless. Everything about it screams the '90s.
An easy to recreate style with any plain white top with the addition of a plaid skirt and knee length socks.
Is this possibly the cutest outfit that ever on friends?