Bollywood industry has given a lot of famous dialogues which made the country go crazy about them. From starting conversation to pick up lines, bollywood dialogues are always the thing which has entertained the audience. People remember the movies by their dialogues nowadays. Here is a list of top 10 famous Hindi film dialogues:
1.' Mei Udhna chahta hu, Daudna chahta hu, girna bhi chahta hu, bas rukna nai chahta'
Well, I guess you already know the name of the movie. This is the power of dialogues. In the movie, 'Yeh Jawaani hai deewani' says dialogue and talks about how what he wants to do in life. Well, this dialogue has influenced a lot of people. This movie taught a lot of lessons, one of the things that we learned was that we should always follow our passion.
2.Don ko pakadna mushkil nai namunkin hai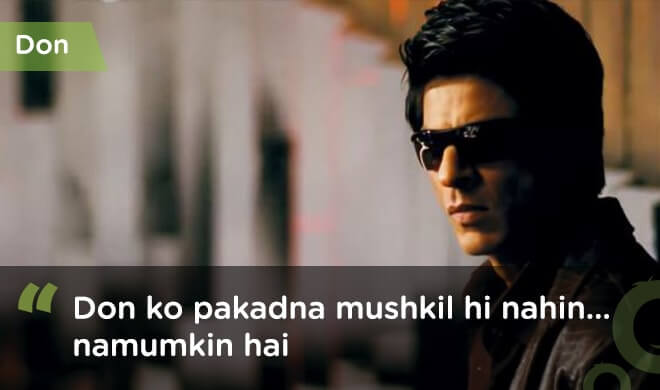 Most popular dialogue from the movie, Don. Shahrukh giving the perfect vibes with his skill of dialogue delivery has made the world go mad behind this one.
3.Kitne aadmi the
Well, this is one of the most famous dialogues from the film Sholay. This is most thrilling dialogue of all times which reminds people of the old times.
4.Sara shehar mujhe sher ke name se janta hai
The famous dialogue from the movie Kalicharan
5.Mogambo Khush hua
The very popular dialogue from the film Mr. India spoken by late Ambrish puri. One of the greatest villains in the history of bollywood.
6.Jo mei bolta hu wo mei karta hu, jo mei nai bolta wo mei definitely karta hu
Famous dialogue delivered by Akshay Kumar in the movie Rowdy Rathore. His acting in this film gave chills.
7.Ek baar meine commitment krdi to fir mei apne aap ki bhi nai sunta
Most popular dialogue delivered by Salman Khan in the movie Wanted. The irony is that Salman is not committed to anyone yet. No offense.
8.All is well, All is well
Inspiring the world with this movie, Rajkumar Hirani wanted to convey an inspirational message to everyone. Everything is going to be fine. So calm down and enjoy your life.
9.Picture abhi baaki hai mere dost
From the movie, Om Shanti Om, Shah Rukh displayed the emotion of a struggling actor. Life is a continuous process, so never give up. There is more to life than you can imagine. Keep going.
10.Gold to gold hota hai, Chora le ya chora li
Very famous dialogue delivered by Aamir Khan in the movie Dangal. This film promoted equality. One of the most impactful movies of all time