A " Home" is a place where a person not only lives his life but also lives through each and every emotion of love, joy, sorrow, worries and so on. An abode, habitation, house, a place, you can call it anything since it has n number of names and surprisingly are n number of trends that we can adapt to adorn our house of dreams. From humans to animals, every being in this entire world likes to follow a specific design for their house according to their personal taste. The ambience of a house is a magical force that can drive your spirits high. Had a bad day at work or school? Umn… Well, I can't change that since fate is the soul controller but I can assure you that these Interior Home Decor Trends For 2018 will surely lift your mood for sure.
7 Fascinating Interior Home Decor Trends For 2018



Let's have a look:
1) Year of the Dog

The Chinese New Year of 2018 has arrived on February 16, 2018. The zodiac sign of 2018 is the Dog. This is the 4715th Chinese year with 2018 being the Male Earth Dog year. 2018 is also called the year of the Brown Dog.
Brown is connected to the Earth so the dominant colors of this year are Earthly colors which will not only change your mood but also bring good luck to you and your house. So go for colors like :
2. Artisian light fixtures

This is the most common trend of the present time. Having a proper lighting according to every occasion is very important. Every decorative piece and style in your house can go wrong if the lighting is not correct. Home Decor without lighting is incomplete. So choose these artisian pieces wisely and enjoy your romantic candle light dinners but do scroll down for more Interior Home Decor Trends For 2018 .
3. The Tassels theory

Must have heard about Tassels from your mum or grandmother but yes, it is back with a bang. Ranging from clothes to jewelry, shoes to belts, cushions to bedsheets, you name a thing which is still uncovered under the Tassel theory. And trust me, it really looks amazing. For this, you do not necessarily need to buy these items. Use your creativity and do wonders with your DIY Tassel creations.
4. Geometric patterns



The origin of geometry is from ancient Mesopotamia and Egypt in the 2nd millennium BC. This proves that the trend of geometric prints is a timeless fashion. They are perfect for offices, living rooms and study rooms. The simple and elegant shapes leave us in a thought of their creation. They can never go out of fashion. Surely try something of this sort this year. Paintings, walls, bedcovers, furniture, showcases and an endless list, there are all the options available in the market today.
5. Vertical garden



Different people have varied types and sizes of houses. It is not important that everyone has a house big enough to support a garden. Generally, people who have big houses which can afford to have gardens prefer to grow plants but is the oxygen only for the ones living in the mansions?
No! This problem has been solved with the invention of the vertical garden. All you need to have is a balcony or even a living room would do because you are the one who has to take care of it, so it is totally your call. You can buy it online or make a one of your own but do look down for more interesting Interior Home Decor Trends For 2018 that are following.
6.High tech Accessories for bathrooms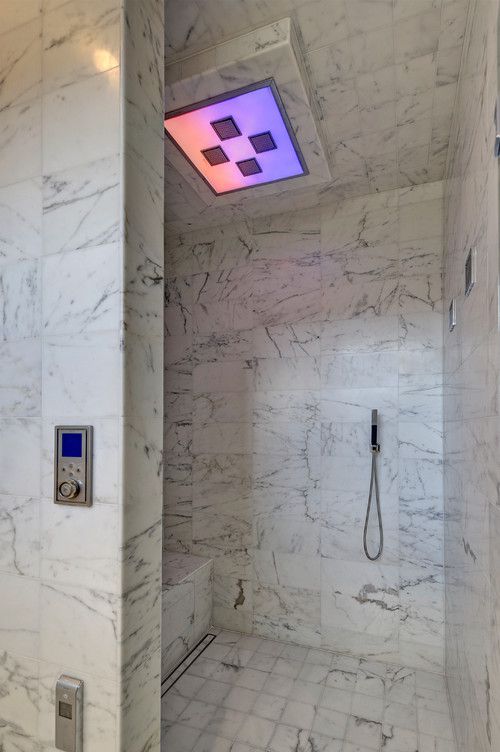 This is the era of IOT (Internet of Things) which means that every IOT enabled device is a smart device. Not only you phones, microwave ovens, fridges but even smart bathroom fittings are the talk of the town this year. Ranging from micro-controlled showers, televisions, speakers, sauna rooms, remote controlled cabins and almirahs to automatic flushes, you name a thing which is not automated now.
You can have it all but the only con is that these things are quite expensive. You do need to loosen your pocket for a great deal. If you can't afford it just like me, in case, then you surely can spend a night at "The Vivanta by Taj" to get that feel for once at least! You can feel like the king of the world when the bathroom fittings will follow your orders without you doing any effort, just sitting back and relaxing. It wasn't a poor joke though, right? Ha ha ha!
7. The sleek statement style – Sofa



What is the place that is most loved by anyone in the house because of its immense comfort ? Yes, it is the sofa. A sofa is a comfortable piece of furniture on which a person (even dogs, if you love them! ) can sit or lie down in his deep thinking to make incredible plans. This is the magic of the comfort that a sofa offers you.
Comfort is being stressed again and again since that is even more important than the design in this case. After the comfort story ends, comes forward the looks and style of our dear sofa. Seven seater sofas are very much in these days. Shades like pine green, mustard yelllow, royal blue, poppy red with huge cushions, like a single cushion or an elongated pillow which is quite springy and supple and the most wanted! Just beware of the kids of your guests!
These are the hottest and sizzling Interior Home Decor Trends For 2018 which you must try because it is your creativity and style which can make all the difference. After all, every home tells an unspoken and untold story of the people living in it.