The current global market is dominantly dynamic with pricing signals that are created as a result of changing supply and demand levels in it. There are various factors which determine the dynamicity of a market e.g. supply & demand levels, international transactions, professional relationships between various companies, customer dealing, etc.
1. Industrial Integration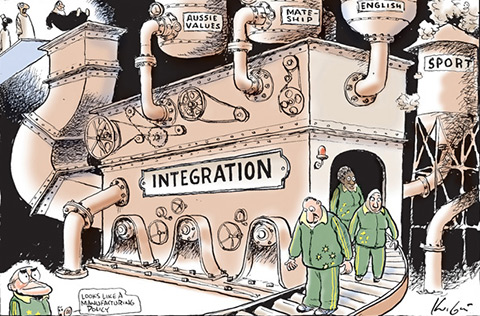 A new trend of integration of industries is emerging in the market nowadays.

Industrial Integration may be vertical i.e. combining separate stages in the manufacture of a finished good or provision of a service, or horizontal which is combining ownership and control of activities within separate markets.

Vertical industrial integration enhances the capacity of an organization to control access to inputs and to control the cost, quality and delivery times of those inputs.

In the 1970s and 1980s, many companies that were primarily engaged in exploration and the extraction of crude petroleum decided to acquire downstream refineries and distribution networks.

 Companies such as Shell and BP came to control every step involved in bringing a drop of oil from its the North Sea or Alaskan origins to a vehicle's fuel tank, this being an example of vertical integration.

Currently, there is a transition from vertical to horizontal integration. A reason behind this is that vertical integration is a difficult strategy for companies to implement successfully and is often expensive and hard to reverse.

Also, due to the immense competition between various industries, some industries integrate and work together by sharing their resources in order to target a greater portion of customers which wouldn't have been possible if they decided to function autonomously. Many medical centers are now integrated with tourism facilities so that the costs of healthcare and holiday can be optimized.
Currently, the idea of innovation is horizontal under which the markets and the companies are carrying out their unique roles in which the market is supplying the ideas and the companies are commercializing those ideas. Small companies had to face the problem of poor establishment earlier but now with the help of the Internet, physical logistical constraints no longer exist for smaller companies and brands.
2. Reverse Innovation In The Global Market
Reverse Innovation is basically any form of innovation likely to be adopted and tested firstly in the developing world i.e. innovation is adopted firstly in a poor country followed by a rich one.

Reverse Innovation requires a local-market focus which is decentralized. Under reverse innovation, new products can be developed and introduced in the emerging markets before being sold elsewhere. This would help companies to analyze the marketing (supply & demand) of their newly introduced products without risking their integrity in the global market.

Mainstream theories can be enhanced and enriched in a number of areas with the help of reverse innovation, and besides that, reverse innovation is found to raise the level of awareness for governments trying to create new ideas, methods, processes, etc to meet their respective priorities and objectives. It is believed that reverse innovation will power the future, not just in poor countries but everywhere.
3. Customer Dealing
Due to the dynamic condition of the present market, there is no saying which company would dominate which other company as nowadays the size, country of origin, past advantages do not determine the level of competitiveness which one company would offer. What matters is how well the company is connected and in sync with the communities of customers and partners for producing a mutually valued outcome, and with the competitors for the cooperative competition.
Customer dealing is one of those scenarios which the companies have to carefully analyze. Customers are opinionated and care about each other's opinions. Together, customers paint their own picture of companies and brands, which is often very different from the image that companies and brands intend to project. Thus, companies have to make sure that their projected images coincide with the self-created images of the customers.
4. Social Media
Nowadays, marketing has become much more conversational under which social media is being extensively used as a mighty advertising platform. Social Media plays a major role in the interpretation of the company's profile for the customers. Social media has made it possible for communications between consumers and businesses to be a real-time which can be more responsive, helpful and efficient. Due to the rise in the usage of social media on day to day basis, consumers have refined their expectations of businesses from a marketing point of view.
The Internet provides the tools and platform required for this interpretation. Mobile connectivity allows customers to access and absorb the wisdom of the crowd in order to make better purchase decisions. Also, with the help of social media and the existence of the current transparent, digital world it is practically impossible to hide flaws or isolate/manipulate customer complaints thus making the current market more dynamic than ever.
To sum up, marketers and industrialists need to ensure the proper implementation of the horizontal transition regime. Social media has eliminated geographic and demographic barriers, allowing people to connect and share their opinions on common interests. At the same time, customers are also becoming more sociable. They are intensively involved in their concerned social circle and seek everyone's advice before making a decision. All these factors have to be considered by the marketers and industrialists in order to cope up with the dynamicity of the current global market.